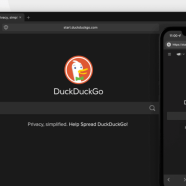 Duckduckgo, the privacy-focused search engine, is working on a desktop browser, the company announced Tuesday. The browser is currently in closed beta on macOS, according to The Verge, with no official launch date announced.
Image: DuckDuckGo.
DuckDuckGo's browser will have "robust privacy protection that works by default, across search, browsing, email, and more," according to the announcement. It will also bring the "Fire" button, which erases all browsing history, stored data and tabs, from the mobile app to the desktop.
Why we care
DuckDuckGo now averages more than 100 million searches per day and is the most downloaded browsing app on Android in many markets. Clearly, there's an audience for privacy-centric search and software and bringing a popular app from the mobile environment over to desktop may help to increase DuckDuckGo's market share, which it says accounts for 9% of Americans (data from Statista says that figure is closer to 2.5%).
In addition, introducing another browser alternative to Chrome may shrink the user base that's able to be targeted via Google's FLoC technology (Chrome is the only browser that supports FLoC).
More about DuckDuckGo
What would it take for new search engines to succeed?DuckDuckGo's focus on privacy-minded users pushes it past 100 million searches in a single dayHow DuckDuckGo (and Microsoft) benefit from Google's sprawling advertising businessGoogle's search choice screen had virtually no effect on search market share, perhaps by design
The post DuckDuckGo to launch a desktop browser appeared first on Search Engine Land.