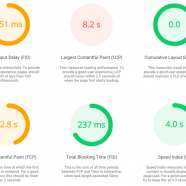 Hey everyone!
It's been a hot minute since I posted so just wanted to quickly come in here and share an update we made to a free tool.
A while back we released a tool that would allow you to aggregate Lighthouse reports by template and visualize and report on assets across sites and at the template/page level in Google Data Studio. Sounds pretty cool right? You can read about it here and check out the GitHub repo here.
Shortly after that Google released their Core Web Vitals and included them in a release of Lighthouse. So here we are. We have updated our repo to include Lighthouse 6.0 (this is a copy of our production repo so it will automatically update.)
That means you can get all these beautiful visualizations of Core Web Vitals and a few other new things:


You can check out an example report to play around with here (sorry, not sorry Waste Management). And in case you missed it the first time the GitHub repo is at the big button below
The post Update to Aggregate Lighthouse Reporter appeared first on Local SEO Guide.